Hoopla Digital
Hoopla service for SEKLS public and academic participating libraries officially launched Nov. 27. Hoopla allows your patrons to borrow (stream or download) digital materials to enjoy on their computer, tablet, phone, or smart TV. Hoopla has about 650,000 titles, including movies, music, audiobooks, ebooks, comics and TV shows.
For the initial period (until funds deposited in 2018 are exhausted) SEKLS will pay the entire cost. After that, SEKLS will place funds in library accounts monthly. You will pay for charges monthly for your patrons beyond what SEKLS funds cover.
SEKnFind News
Photos from today's SEKnFind User's Group meeting, where we celebrated the 10th anniversary of SEKnFind, our regional shared ILS.
Mound Valley will be the 47th library to join SEKnFInd. Retrospective conversion work will begin later this month with a go-live tentatively planned for early next year.
Continuing Education Implementation Project
The Continuing Education Implementation Project guidelines have been revised. The main changes are that libraries can now have up to 6 months after a workshop before deciding to do an implementation project, and continuing education other than SEKLS workshops can be used. Click on these links for the guidelines and the proposal form.
K.A.R. 54-4-1 Children's Internet Protection
Click the following link for the public library internet access policy requirements for children's internet protection.
Public Library Requirements
SEKLS Annual System Board Meeting information
The Southeast Kansas Library System intends to conduct its annual System Board meeting solely by a medium of interactive communication. The online meeting is to avoid a large gathering of people during the COVID-19 pandemic. The meeting will be held on Friday, June 5 at 10:30 a.m. via Zoom.
System Board members and libraries will receive by e-mail around June 1 a packet including the agenda and minutes of the 2019 meeting. The packet will also be made available on this web site on that date.
Members of the public who wish to attend may receive notice here, and may check back here on or after June 1 for the agenda and other information. Those who wish to listen may use the Zoom link on a computer or other Internet-enabled device to join the meeting, or may join by telephone. On June 4, the Zoom link and telephone number will also be available on this web site.
To see the agenda and other meeting materials, click here.
Soups!
For recipes to make the soups at the Summer Reading Workshop, please click on the link below.
2019 Summer Reading Soups

Soups! Soups! Soups!
Did you enjoy the soups at the Summer Reading Workshop? If you did and want a recipe, please click on the link below.
2017 Summer Reading Soups
The Dream Grant
The Southeast Kansas Library System is pleased to announce the availability of a new grant program – the Dream Grant.
The Dream Grant is available to help SEKLS members implement their dreams's for their libraries. Dream Grant projects must be projects the library wishes to implement, with expenses connected with the project falling largely outside funding eligibility for single SEKLS competitive grants. Special consideration will be given to projects which are innovative new services in that library. Dream Grants may be applied for at any time of year.
The Dream Grant was developed in response to the SEKLS Long-Range Plan. Guidelines were approved by the Executive Board at their August meeting.
The complete guidelines, a PDF application form, and an on-line application form are available on the Grants page under the Services menu.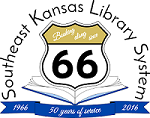 SEKLS History Videos
SEKLS has two new videos on our YouTube channel. The video shown at the 50th anniversary banquet is Booking Along Since 66: The SEKLS story. The video history of SEKLS is 35 minutes long.
The second is SEKLS Memories. This is 15 minutes long, and is quite different in approach and content from the first video. We collected nine oral histories last year, seven from retired/former SEKLS staff, and two from current staff. In these oral histories, questions asked included "What are you most proud of regarding your time working for SEKLS? What was the biggest change you saw during your time at SEKLS? How did you like working for SEKLS?" There were so many good responses to these questions that we wanted to share some responses with you.
Also, there are photos from the 50th anniversary celebration in an album on the SEKLS Facebook page.