News and Events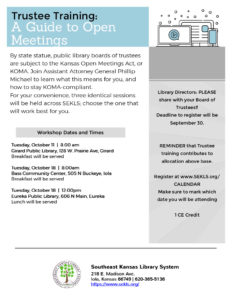 Strategic Planning Questionnaire for SEKLS members. Thank you for your input.
Grant Opportunities
TEFFI: SEED Grants through the Department of Commerce:  Libraries, a category for the grant program, may apply for funding for projects that support providing free and open access to a broad range of materials and services, including reading material, technology, furniture and building improvements. Grant amounts are between $5,000 and $50,000 in funding, with a 10% match requirement. Libraries must be in eligible counties in communities with populations of not more than 5,000 people. All of the counties in SEKLS, except for Crawford, are included. SEED grant applications will open Monday, August 29, and close at 11:59 p.m. Friday, September 30.  Press release | Grant Details, including informational webinar link (Aug. 29 at 10 am)
The purpose of TEFFI: SEED grants is to support the economic revitalization of Kansas communities under 5,000 population through investments in quality-of-life initiatives.
Competitive Grant for Technology and Equipment is now open on the Grants page.
2022-2023 Academic/School Extended Services grant is open on the Grants page.
Family Engagement in Public Libraries
The application for Year 2 of the Family Engagement in Public Libraries (FEPL) project is NOW OPEN! Here are links to information:
Employment Opportunity
The Southeast Kansas Library System (SEKLS) seeks a full-time Technology Assistant. The successful candidate will support libraries by assisting with technology needs, working under the direction of the technology coordinator. The position requires strong skills in these areas: computer and network troubleshooting, technology training, and library software applications. Positive and effective communication skills are vital. Candidates with any combination of education and experience commensurate with responsibilities will be considered. This position works from the SEKLS office in Iola but assists libraries in a 15-county area and requires a valid driver's license; frequent, but not overnight, travel is required. Salary range $40,000-$45,000. Excellent benefits, including paid health insurance, membership in Kansas Public Employees Retirement System, and paid professional memberships. See the full job description. Send a meaningful cover letter, resume, and a list of at least three (3) professional references to: Sharon Moreland, Director, Southeast Kansas Library System, 218 E. Madison, Iola, KS 66749 or smoreland@sekls.org. EOE.
Previous News Items